Leading Phrases : 'Tyrants' and 'Thaojin' have become quite popular nowadays, and the fashion industry will never miss a chance to make a big fuss about the fashion. The 2014 Spring-Summer Fashion Week came to a close. The dazzling local tyrants made money on the T stage. Of course, the golden glitz is not the average person can control, and it must be psychologically prepared for its exaggeration. Now along with Xiao Bian, make friends with 'Tu Hao' and experience the charm of 'Local Gold'.

This year, the head of a young woman and a sexy new model have become local gold models!
Fan Bingbing Fan Fan incarnates Miss Mermaid at the event. Her dress also occupies two major fashion elements: local gold + kylin texture. As a pioneer of popularity, Fan Ye naturally does not want to fall behind. Even though the local tyrants are in gold, she is unconventional with outstanding temperament and wears golden elegance to the extreme.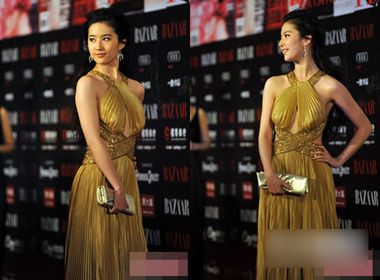 Liu Yifei has always been taking the youthful and elegant line of the fairy sister Liu Yifei. This time he walked a high-end atmosphere extravagantly. A golden halter evening gown with a small golden clutch bag attended the award ceremony, instantly killing countless boys and exuding a radiant whole body. Goddess aura. It is not an exaggeration to wear gold in a decent manner. Yes, praise!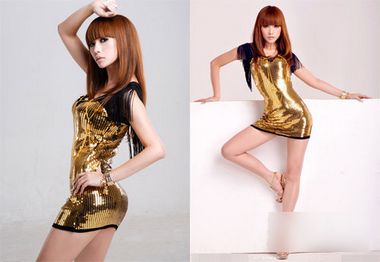 Liu Yan's proud body, with this golden tight-fitting dress short skirt is really an enchanting seductive is not a thing! Gold glitter reflective material makes her an instant eye-catching focus, a simple short skirt will reveal her wonderful figure ,clever!

Local gold swept the T-Taiwan surge of golden waves!

"Tyrant Gold" is bound to become the most popular hot spot for lovers in the spring and summer of 2014, but it is the most popular literary girl. However, when dazzling gold meets haute couture, everything can be taken for granted. Did the gold-clad long-legged sister rushing in your eyes?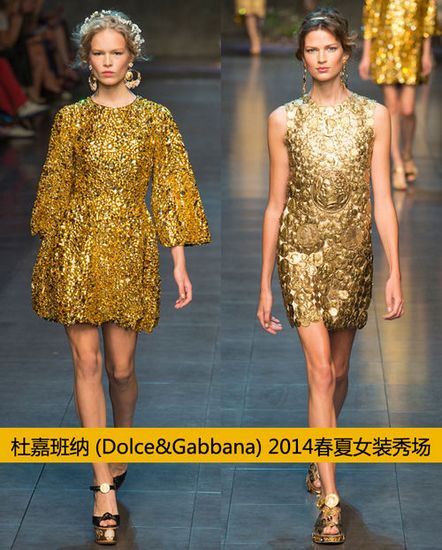 The Dolce & Gabbana 2014 spring-summer women's show is a must-attend fashion collection for "local tyrants". It is made up of a series of short gold and silver coins, yellow crystal dresses and heavy gold LACE. The shorts suit... Perhaps you still don't think it's enough to exaggerate, but when the models wearing gold fashion collectively closed down, everything was lingering in the golden colors.

Function pager_path_getFullURL(currentPage, pageSize) { var seoPagerView = "true"; if (seoPagerView == "true") { var searchPagerView = "false"; var noPagePre = "false"; var pageExt = "/"; var param = " ";var fullURL = ""; fullURL += "/article/ff8080814201c7570142029b29a0004c/"; if (searchPagerView == "false") { if (!(currentPage == 1 && pageExt == "/")) { if (noPagePre == "false") { fullURL += "p"; } fullURL += currentPage+pageExt; } }else{ var paramSign = (fullURL.indexOf("?") == -1) ? "?" : "& ";fullURL += paramSign+"page="+currentPage+param; } return fullURL; }else{//Common page path var param = ""; var path = "/article/ff8080814201c7570142029b29a0004c/"; var paramSign = ""; If (param != null && param != "") { paramSign = (path.indexOf("?") == -1) ? "?" : "&" path += paramSign; path += param.replace( "&",""); } if (currentPage != 1) { paramSign = (path.indexOf("?") == -1) ? "?" : "&"; path += paramSign; path += "page="+currentPage; } if (pageSize) { paramSign = (path.indexOf("?") == -1) ? "?" : "&"; path += paramSign; path +="pageSize="+pageSize; } return path; } }

Previous 1 2 Next

Shiner Lace Fabric,100% Polyester Lace,Polyester Shiner Lace,Polyester Shiner Fabric

SHAOXING LANGDENG IMP&EXP CO.,LTD , https://www.ldfabric.com